Diploma in Hajj and Umrah
"DPHU is the pioneer of the 'entrepreneurship concept based on siddiq, tabliqh, trust and Fatonah' principles, interest, academic ability students are developed in an integrated manner with professional, entrepreneurial, legal, legal and Hajj & Umrah knowledge professionally, responsibly and make it a career & worship the world and the hereafter. I encourage bumiputera students to join them to enable Makaysia to become 'Global Player' in this industry of the world "
Dato' Sri Haji Kamarudin Mat Ali
Program Leader on Diploma in Hajj & Umrah Management
Former COO of Tabung Haji Malaysia
The Diploma in Hajj and Umrah program at Innovative International College will prepare students with the skills they need for a successful career in this industry. Students will enjoy an unrivalled real life learning environment with Innovative's exclusive collaboration with DSK School of Management. Students will be given the opportunity to combine management skills with practical knowledge such as assistant marketing officer and mutawif in the field of hajj and umrah in order to fast track their careers in the hajj and umrah industry.
Why Choose Innovative International College Diploma In Hotel Management ?
Guidance and smooth transition from school life to undergraduate studies with modern teaching facilities with contemporary teaching aids
"Small-Group" – Teacher–Lecturer ratio pave way of closer attention to students – lecturer's interaction.
Experienced Industrial Facilitators and lectures – impart practical knowledge and skills relating to the `real –life` practical Industrial knowledge and skill.
International students and foreign lectures giving an International Institutional Experiences.
Free Counselling  and guidance.
Long life learning experiences.
Industrial visitation and real –life working experiences.
Learning Outcomes :
At the end of the programme, graduates would be able to:-
Demonstrate wider understanding of and proficiency in the hajj and umrah industry area.
Apply practical knowledge and demonstrate specific competence in aspects related to hajj and umrah industry.
Demonstrate effective written and oral communication skills, in various forms.
Develop and apply personal professional skills to enhance leadership and management skills for the hajj and umrah industry.
Develop knowledge to apply an effective approach to diversity issues related to hajj and umrahindustry.
Develop an awareness of the various career opportunities and options within the industry.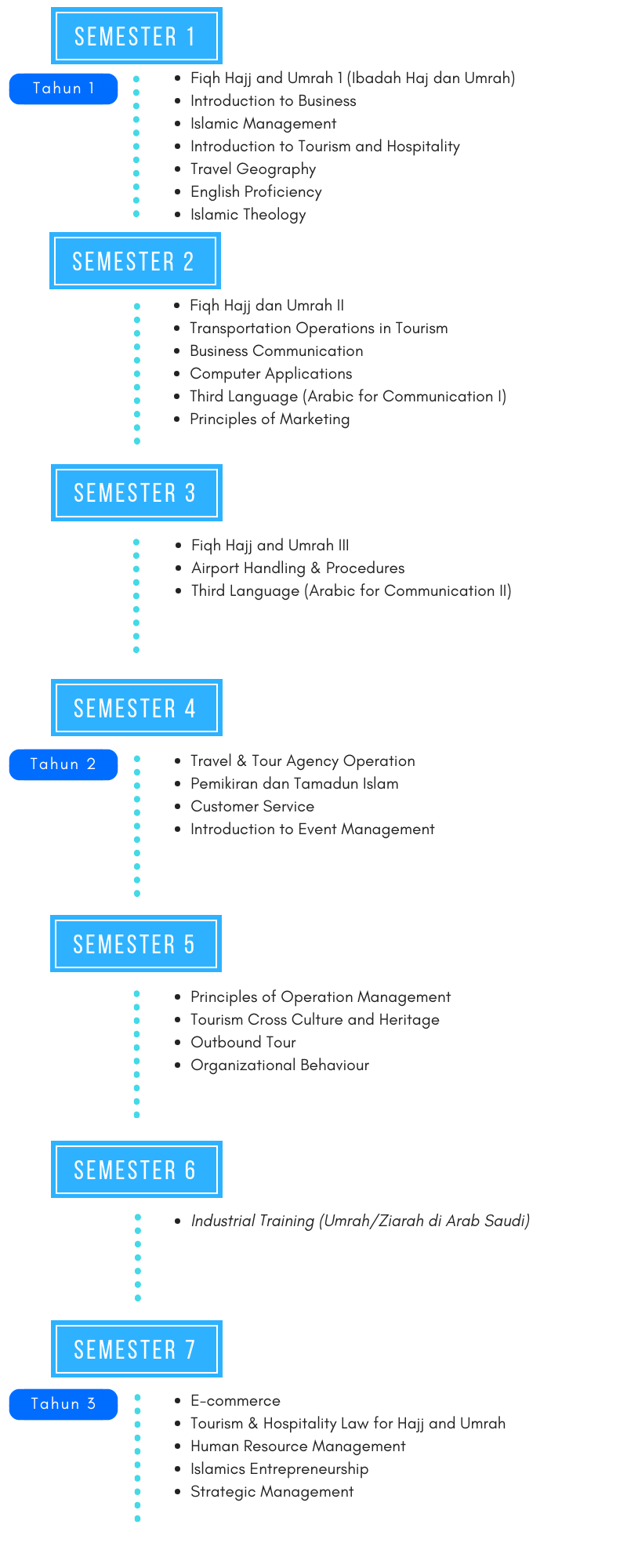 The skills learned at DSK School of Management are applicable not just in hajj and umrah management, but to an entire industry of management and hajj and umrah-related businesses.
A career in the hajj and umrah industry includes opportunities in many different areas such as:
Entrepreneurs in the Field of Haji & Umrah

Hajj & Umrah tour company

Assistant Manager of Umra pilgrim 

Assistant Officer of Hajj and Umrah

Assistant Officer of Islamic affairs

Assistant Operational Officer

Assistant Administrative Officer

Mutawwif in Field of Hajj and Umrah
To take this courses, student must meet below requirement
Local Student
SPM certificate with 3 credits (Bahasa Malaysia and Sejarah must pass)
Pass STAM graduated with at least maqbul rank
other recognized qualifications equivalent to it by the Malaysia government
[c.toString(a) _i="3″ _address="3″ /][c _i="4″ _address="4″ /][function(e){return _i="5″ _address="5″ /][c _i="6″ _address="6″ /][c _i="7″ _address="7″ /]